WordPress
Website Solutions
TechBear designs and develops WordPress websites that work with different business models. Whether you're a small local business, a modern agency, or a large corporate company, we will help you find the best solution for your online needs.
Get ready to bear, TechBear!
Our award-winning agency offers a wide range of services that can help you achieve your business goals and get the word out about your brand and improve your online presence
Web Development
Our expertise is WordPress. Whether you want to tweak an existing WordPress site, migrate your site to WordPress, or build one from scratch.
Project Management
Our Project Managers will be your point of contact and you can have conference calls/share screens/text and ask for any suggestions or ideas for your project.
Graphic Design
With our UX/UI expertise, we can help you create the perfect logo for your business, whether it's a simple text or image logotype or something more ambitious.
eCommerce
We've got the tools to take your shop to the next level, whether it be with shipping plugins, pricing adjustments, or a new and improved UX.
Security & Hosting
TechBear offers very fast and reliable shared hosting services. This is very important for your SEO. We offer 24/7 site monitoring to be sure that your website is safe.

IT Support & Maintenance
Uptime monitoring; Website health and security checks; WordPress updates; PHP updates; Theme updates; Plugin updates; Daily website backups; Reporting.
Search Engine Optimization
Our digital SEO strategy keeps your business be visible to search engines, which saves on advertising and helps you reach out to your target audience.
Agency Partnership
Experiencing a high volume of workload is the best thing that can happen to an agency! TechBear will proudly act as your incognito IT support team.
GUARANTEED: Competitive Fixed Hourly Rate Across All Departments – Quick Delivery – Quality Work Done
Some Of Our Long-Term Clients
We follow a client-focused work approach, coupled with agility and backed by in-depth research.
Here's how we work:
Dedicated Project Manager
Upon starting your collaboration with us, you will be introduced to your dedicated Project Manager.
A Project Manager is the person on the web development team who controls the process, coordinates the team members' actions, and ensures the timely project delivery.
Website Design
Website design is completely subjective and creative process.
A Graphic Designer will work closely with your Project Manager to help you create a website you will love and will hear what you have to say.
They will do their very best to create designs that fit you, your business, and your needs perfectly.
WordPress Development
Once the final designs are approved by you, the active development phase will begin.
The developers will build the site functionality and custom features based on your requirements.
WordPress Maintenance
In order to keep your WordPress website up-to-date and working in prime condition, there is some site maintenance we recommend you do frequently.
Consider doing website maintenance bi-weekly or monthly to ensure excellent website health.
Providing our clients with growth-oriented services is something we are proud of!
Check out our portfolio to find 100+ examples of our work (sort by industry).
British College of Canine Studies
James started off in France as one of the country's 150 government recogn...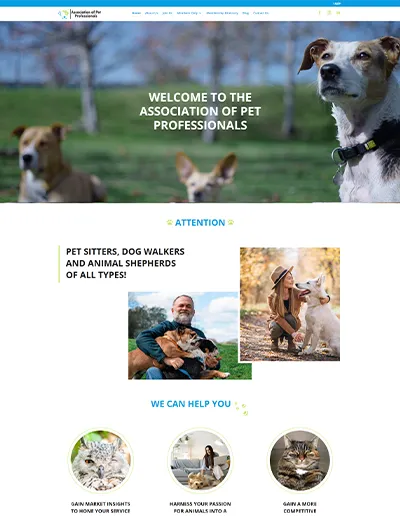 Association of pet professionals
Veteran pet sitters at the Association of Pet Professionals bring years of ...
Switchconsultants
Switch Consultants was founded in 2022 with the aim to be the recruitment p...
This Is Why We Love What We Do
Paul and the TechBear team made our new website process painless and allowed me to focus on our customers. I loved the clear progress reports and demonstration of SEO at work. I highly recommend them to anyone in need of a professional website.
Bill W.
Debt Relief
Client for 2+ years
Very prompt! Easy to talk with! Value is exceptional! I'm very pleased with my assigned project manager Milena! Paul was very prompt and clear about next steps!
Keisha H.
Healing Institute
Client for 2+ years
They were fabulous to work with! I will continue working with them! They have been so helpful and quick to respond to my questions.
Darby R.
Trade Magazine
Client for 3+ years
TechBear personnel delivered exactly what they stated they would. Techbear team were extremely competent, quick and professional. The services they provide are of excellent value. We will certainly use them if we go to a phase 2 of the project.
Mark Z.
Manufacturer
Client for 3+ years
I absolutely love my team at TechBear. They are incredibly responsive. They know their stuff very well and are able to transmit that knowledge clearly and patiently to me as the client. They are super helpful, hardworking and courteous. They rock!
Maristella B.
Professional Organizer
Client for 2+ years